When you use your Pre-tax Forma Card for eligible transactions, you may be required to upload a receipt or provide other documentation for the transaction. You'll receive an email notification (or a text message if you have them turned on) asking you to upload a receipt.
In the email, there will be an "Upload Receipt" button that will take you to the transaction page in your Forma account where you can upload your receipt.

You can also log in to Forma and on the "Home" page you'll see a list of pending tasks that will prompt you to upload your receipt.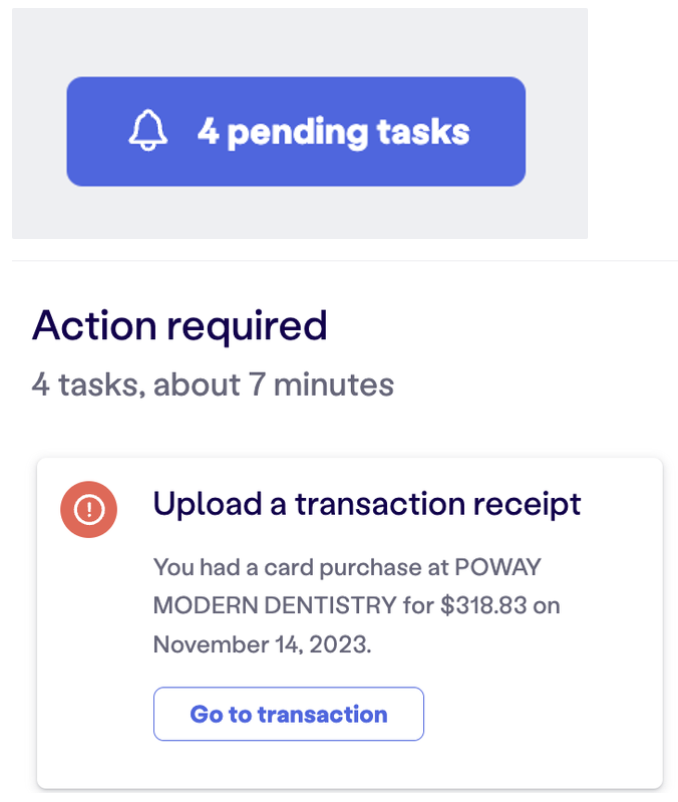 Or, follow the instructions below to upload a receipt from the Benefits page:
Log in to your Forma account
Select "Benefits" from the top menu
Select the benefit (pre-tax or employer-sponsored) under which you need to submit a receipt for
Select the transaction
Select "Upload receipt"
Choose the file from your computer and select "Upload"
The receipt should include the following information:
Claimant name
Vendor name
Date of service
Service name
LMN (if applicable)
Rx (if applicable)
Please do not submit a new claim when asked to upload a receipt. Attach the receipt to the existing transaction.
The Forma team will be notified once the receipt has been submitted successfully. Please allow 3 business days to review and adjudicate the transaction. Once adjudicated, you will receive an email with more information about the transaction.