You can transfer money into your Forma HSA from your bank account through an ACH transfer. You'll complete the process through your bank's app and report it as a self-contribution in Forma.
To start the ACH transfer from your bank, follow the steps below. Please note that the flow will be slightly different depending on your bank.
Go to your banking app > Transfer
Add your HSA manually as an external account
Enter your Forma account details

You'll need your HSA account and routing numbers which you can find on your HSA details page in your Forma account.
Typically the bank will send micro-deposits to verify the account (small deposits less than $1). Once you see these micro-deposits on your HSA transactions table, you should be able to transfer funds to your HSA.
You will be prompted to label these micro-deposits. Select the type "Non-Reportable".
Once the money is deposited into your HSA, you'll see an 'Action required' message on your HSA benefit page. Follow the steps below to label the ACH transfer.
Log in to Forma
Select 'Benefits' from the top navigation bar
Select "Health Savings Account (HSA)"
On the 'Transfer type (Deposit)" dropdown menu, select the transfer type. For more information, refer to the article What are the types of HSA transactions?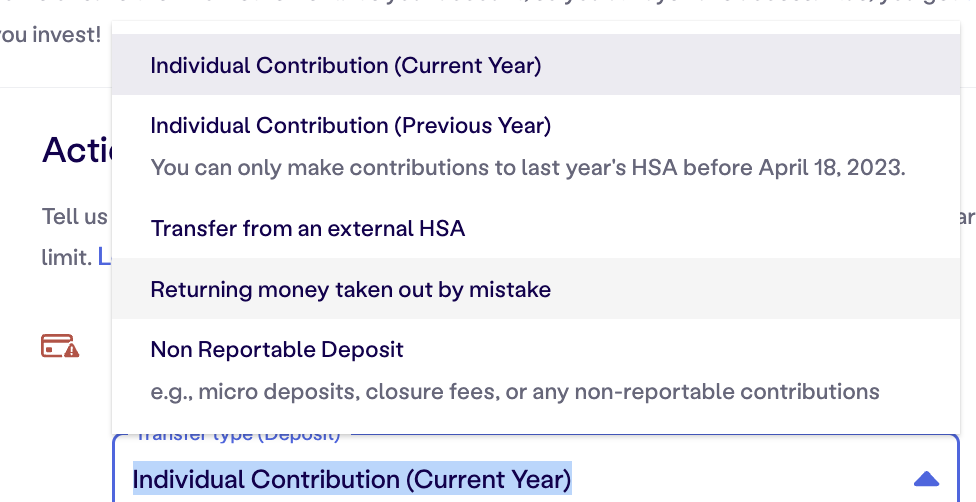 Check the box to confirm that you read, understood, and agreed to the terms and conditions
Click "Confirm and submit"